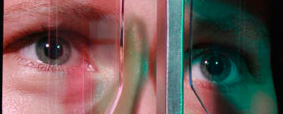 Visual Performance & Oculomotor Mobility Lab
Dr. Miriam Spering
News
---
Together with her co-investigator Dr. Dinesh Pai (UBC Computer Science) and Knowledge User Dr. Mary-Lou Jackson (UBC Ophthalmology, Vision Rehabilitation) Dr. Spering was recently awarded a Wall Solutions grant to develop a portable dynamic vision test for the aging population.
Recent Papers
---
"Eye movement accuracy determines natural interception strategies" [pdf] by Jolande Fooken, Sang Hoon Yeo, Dinesh Pai & Miriam Spering
in Journal of Vision (2016) shows that hand movement strategies in a manual interception task are optimally adapted to the proficiency of the pursuit system.
Welcome to the Visual Performance & Oculomotor Mobility Lab in the Department of Ophthalmology & Visual Sciences at the University of British Columbia, Vancouver. The lab is directed by Dr. Miriam Spering. We are located on the 4th floor of the Blusson Spinal Cord Centre, home of ICORD, at Vancouver General Hospital.
Research in Dr. Spering's lab focuses on how the brain uses visual information to control movement. We use ultra-fast display technology, eye tracking and motion capture to study vision, eye and hand movements in healthy adults, athletes, and patients with sensorimotor deficits.
Our basic research has many practical applications. For instance, a type of eye movement known as smooth pursuit is used to stabilize gaze on a moving object of interest and critically assists vision. Deficits in the perception of visual motion and the pursuit tracking of moving objects have been described in many conditions, such as Parkinson's disease or schizophrenia. Our clinical research projects focus on using eye movements as sensitive indicators of disease processes and developing technology for eye-movement-aided diagnosis. We have also developed vision and eye movement tests for the UBC Baseball team. More details on our community outreach and sports vision projects can be found here.
We acknowledge research funding from NSERC, CFI John R. Evans Leaders Fund and the UBC Peter Wall Institute for Advanced Studies.