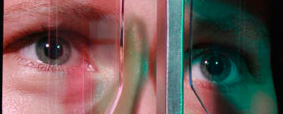 Neuroscience of Vision & Action (NOVA) Lab
Dr. Miriam Spering
Recent Papers
---
"Acting without seeing" [pdf] by Miriam Spering & Marisa Carrasco
in Trends in Neurosciences (2015) reviews evidence revealing dissociations between the contents of perceptual awareness and different types of eye movements. Click here to go to our cover art for this paper: [cover image]
"Reward effects on pursuit" [pdf]
by Aenne Brielmann & Miriam Spering is in press in Journal of Experimental Psychology: Human Perception & Performance

"Pursuit efference-copy failure in schizophrenia" [pdf]
by Spering, Dias, Sanchez, Schuetz & Javitt, conducted at Nathan Kline Inst. for Psychiatric Research, New York,
in Journal of Neuroscience (2013)
reports: patients with schizophrenia fail to benefit perceptually from pursuit eye movements even when pursuit is relatively intact. See press release [UBC News] and movie [Youtube].
Welcome to the NOVA Lab at the University of British Columbia, Vancouver. The lab is jointly directed by Dr. Miriam Spering and Dr. Ipek Oruc and is part of the Visual Cognitive Neuroscience Group within the Department of Ophthalmology & Visual Sciences. We are located on the 4th floor of the Blusson Spinal Cord Centre, home of ICORD, at Vancouver General Hospital.
Research in Dr. Spering's lab focuses on how the brain uses visual information to control eye movements. We use experimental tools from classical visual psychophysics to state-of-the-art eye movement recordings in healthy observers and patients.
Some of the specific research questions, which the lab is currently exploring, are: How do eye movements influence the way we perceive our visual environment? How are motion perception and eye movements learned? What is the effect of attention and reward on eye movements?
Our basic research has many clinical applications. For instance, a type of eye movement known as smooth pursuit is used to stabilize gaze on a moving object of interest and critically assists vision. Deficits in the perception of visual motion and the tracking of moving objects with smooth pursuit eye movements have been described in many neurological, psychiatric and developmental conditions, such as Parkinson's disease, schizophrenia and strabismic amblyopia. One of the goals of our research is to assess whether training can compensate abnormalities in vision and eye movements in these patients with the ultimate goal of developing eye movement-based rehabilitation tools.
We acknowledge research funding from NSERC, CFI John R. Evans Leaders Fund and the UBC Peter Wall Institute for Advanced Studies.